RAILWAYS
Bhopal Metro Hits Fund Hurdle, Agency Seeks European Bank Aid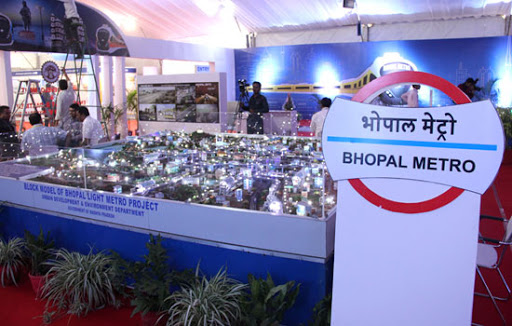 Bhopal: MP urban development and housing administration minister Jaivardhan Singh has directed officials to prepare a roadmap of urban bodies' development works. He reviewed the departmental schemes here on Monday.
Awaiting the appointment of a full-time managing director, the Madhya Pradesh Metro Rail Corporation Limited (MPMPCL) is expected to seek mobilisation advance of Rs 1,000 crore to avoid delays in implementation of the Bhopal Metro rail project, according to sources.
MPMRCL has requested financing from European Investment Bank (EIB) for two Metro corridors. These two corridors consist of both elevated and underground sections. The cumulative length of two Metro corridors is 27.87 km. The elevated stretch is 25.46 km and underground is 1.79 km, which includes a ramp length of 620 m. The alignments have 28 elevated stations and two underground stations.
According to cost estimates calculated at 2009 rates, construction cost for Phase I of the Metro network will be about Rs 5,640 crore. The Bhopal Metro network consists of six lines to be implemented in different phases. lines to be implemented in different phases.
While Karond Square to AIIMS (Purple Line) will be constructed in the first phase, the network from Bhadbhada Square to Ratnagiri Tiraha (Red Line) is planned in the later stages.
The Karond Circle – AIIMS (Purple Line) Metro line runs in north-south direction and is 14.99 km in length. It starts at Karond Circle and follows Berasiya Road, GPO Road, Railway Station, Pool Patra Road, Jinsi Road, HBJ Station; and Alkapuri Road to the terminal at AIIMS.
There are a total 16 stations along Purple Line, of which 14 are elevated and two are underground stations. The route length from Bhadbhada Square to Ratnagiri Tiraha (Red Line) is 12.88 km and runs in west-east direction.