POWER
Budget 2020: Nirmala Sitharaman's full speech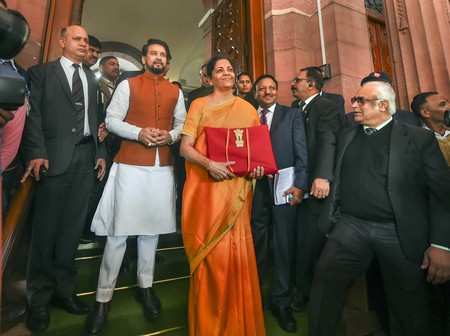 Speech of
Nirmala Sitharaman
(Minister of Finance)
February1, 2020
Hon'ble Speaker,
I rise to present the Budget for the year 2020-2021. Introduction In May 2019, Prime Minister Modi received a massive mandate to form the government again. With renewed vigour, under his leadership, we commit ourselves to serve the people of India, with all humility and dedication.
2. People of India have unequivocally given their jan-aadesh for not just political stability and also reposed faith in our economic policies. This is the Budget to boost their incomes and enhance their purchasing power. Only through higher growth we can achieve that and have our youth gainfully and meaningfully employed. Let our businesses be innovative, healthy and solvent with use of technology.
3. For today's youth born at the turn of the century, for every member of Scheduled Castes and Scheduled Tribes who seeks a better life, for every woman wishing to stand up and get counted, for every individual from the minority sections of our society – this Budget aims to have your aspirations and hopes addressed.
4. We wish to open up vistas for a vibrant and dynamic economy with a gentle breeze of new technology. This vibrant India shall be a caring society which shall attend to its weak, the old and the vulnerable among its citizens.
5. During 2014-19, our government brought in a paradigm shift in governance. This shift was characterised by a twin focus: fundamental structural reform and inclusive growth.
6. Fundamentals of the economy are strong and that has ensured macroeconomic stability. Inflation has been well contained. Banks saw a thorough cleaning up of accumulated loans of the past decade and then they were recapitalized. Companies were provided an exit through the IBC. Several steps on the formalisation of the economy were taken up.
7. Of the structural reforms, the Goods and Services Tax (GST) has been the most historic in our country. Its chief architect is not with us today. I pay homage to the visionary leader late Shri Arun Jaitley ji. At the time of roll out of GST, he had said and I quote:
"It will be an India where the Centre and States will work harmoniously towards the common goal of shared prosperity. The unanimity of the Constitutional amendment and the consensus of the GST Council highlights that India can rise above narrow politics for the nation's interest. With the GST, neither the state nor the Centre loses its sovereignty. In contrast, they will pool their sovereignty on decisions on indirect taxes."
8. True to this vision for the historic structural reform, the Goods and Services Tax has been gradually maturing into a tax that has integrated the country economically. It has consolidated numerous taxes and cesses to one tax and facilitated formalization of economy. It has resulted in the efficiency gains in logistic and transport sectors. The turnaround time for trucks has witnessed a substantial reduction to the tune of 20% due to abolition of check posts in GST. The dreaded Inspector-Raj has also vanished.
9. It has also led to significant benefits to MSME by way of enhanced threshold and composition limits. The effective tax incidence on almost every commodity came down substantially. Through several rate reductions, an annual benefit of `one lakh crore has been extended to consumers. It amounts to 10% reduction in overall tax incidence. An average household now saves about 4% on its monthly spends on account of reduced GST rates.
10. During this phase of maturing, GST did face certain challenges. This was natural as transition was daunting. GST Council has been proactive in resolving issues during transition. In the last two years we have added more than 60 lakh new taxpayers, a total of about 40 crore returns were filed, 800 crore invoices were uploaded, and 105 crore e-way bills were generated. There has been extensive engagement with stakeholders. A simplified new return system is being introduced from April 1, 2020.
11. A former Prime Minister had once voiced a concern that the fruits of the welfare schemes were not reaching the intended citizens – the common and deserving citizen was only receiving 15 paisa of every rupee sent for him. Guided by "SabkaSaath, SabkaVikas, SabkaVishwas", our government and our Prime Minister added manifold speed and scaled up the implementation of schemes and programmes that directly benefitted the poor and the disadvantaged. I wish to list out only a few as examples: (a) welfare schemes with Direct Benefit Transfer (DBT) embedded in them; (b) sanitation and water as provision of basic needs and as a measure of preventive healthcare; (c) healthcare, through Ayushman Bharat; (d) clean energy through Ujjwala and solar power; (e) financial inclusion, credit support, insurance protection to vulnerable sections and pension scheme; (f) digital penetration with broadband and UPI;(g) Affordable Housing for all through PMAY.
The milestones achieved are unprecedented, globally recognised and benchmarked against international indices.
12. This strategy, changed the established order of a few individuals cornering most of the benefits and was appreciated by the people. This had immensely positive outcomes. We have moved on from a growth rate of just over 4% in 1950s to 6% in 1980s and1990s. However, during 2014-19 we clocked growth of 7.4% on average with inflation, averaging around 4.5%. It is worthwhile to note that inflation was close to 9% in the last two decades of the last millennium and ranged 10.5% during 2009-14. Between 2006-16, India was able to raise 271 million people out of poverty, which we all should be proud of.
13. We are now the fifth largest economy of the world. India's foreign direct investment got elevated to the level of US$ 284billion during 2014-19 from US$ 190billioin that came in during the years 2009-14. The Central Government debt that has been the bane of our economy got reduced, in March 2019, to 48.7% of GDP from a level of 52.2%in March 2014.
14. With this backdrop, our government shall work towards taking the country forward so that we can leapfrog to the next level of health, prosperity and well-being. We shall strive to bring Ease of living for every citizen.
15. I am mindful of presenting this budget in the backdrop of two cross-cutting developments:
⦁ Proliferation of technologies, specially analytics, machine learning, robotics, bio-informatics and Artificial Intelligence;
⦁ The number of people in the productive age group i.e. 15-65 years in India, being at its highest.
16. This combination is special to contemporary India. Across the world, if there is a shrinking of globalisation, equally, there is a debate on the efficacy of monetary policy too. The efforts we have made in the last five years and the energy, enthusiasm and the innovation of our youth are the ignition required to push forward. The Indian spirit of entrepreneurship which weathered several storms over the centuries inspire and motivate us. We recognise the need to support and further energise this spirit.
17. This budget is woven around three prominent themes:
One: Aspirational India in which all sections of the society seek better standards of living, with access to health, education and better jobs.
Two: Economic development for all, indicated in the Prime Minister's exhortation of "SabkaSaath, SabkaVikas, SabkaVishwas". This would entail reforms across swathes of the economy. Simultaneously, it would mean yielding more space for the private sector. Together, they would ensure higher productivity and greater efficiency.
AND
Three: Ours shall be a Caring Society that is both humane and compassionate. Antyodaya is an article of faith.
18. The digital revolution which has placed India in a unique leadership position globally will see the next wave. We shall aim:
⦁ To achieve seamless delivery of services through Digital governance
⦁ To improve physical quality of life through National Infrastructure Pipeline
⦁ Risk mitigation through Disaster Resilience
⦁ Social security through Pension and Insurance penetration.
Each one of these initiatives and their components would be bench-marked to international standards and the indices would be announced soon.
19. To Summarize my introductory remarks, this Budget Speaker Sir, is dedicated to provide "Ease of Living" to all citizens. As mentioned, a little earlier, the details under the three broad themes – Aspirational India, Economic Development and Caring India are the flowers in the bouquet that is Ease of Living. Holding this bouquet together are two hands – one, Corruption free, policy-driven good governance and two, clean and sound financial sector.
20. The three themes described earlier form the basis of my subsequent presentation. They are the flowers of the bouquet that underline the overall concept of "Ease of Living" and need to uplift Governance, as pronounced by our Prime Minister Shri Narendra Modi. The chapter on Finances and subsequent Part B on Taxes provide the necessary underpinning to the Budget that lays the guide map for next year and beyond.
Before, I move to elaborate on each of the three themes, I wish to recite a small verse in Kashmiri:
"SaunWatanGulzarShalamaarHyur
Dal ManzPholvunPamposhHyuv
Navjavan-an-hund, VushunKhumaarHyuv
MyonWatan, ChyonWatan
SaunWatan, NundbonyWatan"
(Everything that we do, all of us do, is for this beautiful country)
Poem by Pandit Dinanath Koul
Aspirational India
21. I shall cover programmes and plans related to: (1) Agriculture Irrigation and Rural development (2) Wellness, Water and Sanitation and (3) Education and Skills
Agriculture, Irrigation and Rural Development
22. Our government is committed to the goal of doubling farmers' incomes by 2022. We have provided energy sovereignty through KUSUM and input sovereignty through Paramparagat Krishi Vikas Yojana. We have provided resilience for 6.11 crores farmers insured under PM Fasal Bima Yojana. Focus on cultivation of pulses, expansion of micro-irrigation through Krishi Sinchai Yojana, have raised the self-reliance of the country. Provision of any annual supplement of the income to the farmer, directly is done through PM-KISAN. Connectivity through PMGSY, financial inclusion have helped raise farm incomes.
22 (1). Prosperity to farmers can be ensured by making farming competitive. For this, farm markets need to be liberalised. Distortions in farm and livestock markets need to be removed. Purchase of farm produce, logistics and agri-services need copious investments. Substantial support and hand-holding of farm-based activities such as livestock, apiary, and fisheries need to be provided for. Farmers desire integrated solutions covering storage, financing, processing and marketing.
23. Adopting sustainable cropping patterns and bringing in more technology are integral to our plan. All this and more can be achieved through working with and in cooperation with the States.
The following 16 action points indicate our focus:
23 (1). We propose to encourage those State governments who undertake implementation of following model laws already issued by the Central government:
⦁ Model Agricultural Land Leasing Act, 2016
⦁ Model Agricultural Produce and Livestock Marketing (Promotion and Facilitation) Act, 2017;, and
⦁ Model Agricultural Produce and Livestock Contract Farming and Services (Promotion and Facilitation) Act, 2018
23(2). Water stress related issues are now a serious concern across the country. Our government is proposing comprehensive measures for one hundred water stressed districts.
23(3). In the Budget speech of July 2019, I had stated that "annadata" can be "urjadata" too. The PM-KUSUM scheme removed farmers' dependence on diesel and kerosene and linked pump sets to solar energy. Now, I propose to expand the scheme to provide 20 lakh farmers for setting up stand-alone solar pumps; further we shall also help another 15 lakh farmers solarise their grid-connected pump sets. In addition, a scheme to enable farmers to set up solar power generation capacity on their fallow/barren lands and to sell it to the grid would be operationalized.
23 (4). Our government shall encourage balanced use of all kinds of fertilizers including the traditional organic and other innovative fertilizers. This is a necessary step to change the prevailing incentive regime, which encourages excessive use of chemical fertilisers.
பூமி திருத்தி உண்
ஆத்திச்சூடி –82
BhumitiruthiUnn
⦁ Wise, Old Tamil Woman Saint poet Aauvaiyar – Sangam Era
"Aaathichoodi" verse 81
The meaning of this saying is that one must "first tend to till one's land and then eat". One must eat only after work.
23 (5). India has an estimated capacity of 162 million MT of agri-warehousing, cold storage, reefer van facilities etc. NABARD will undertake an exercise to map and geo-tag them. In addition, we propose creating warehousing, in line with Warehouse Development and Regulatory Authority (WDRA) norms. Our government will provide Viability Gap Funding for setting up such efficient warehouses at the block/taluk level. This can be achieved, where States can facilitate with land and are on a PPP mode. Food Corporation of India (FCI) and Central Warehousing Corporation (CWC) shall undertake such warehouse building on their land too.
23 (6). As a backward linkage, a Village Storage scheme is proposed to be run by the SHGs. This will provide farmers a good holding capacity and reduce their logistics cost. Women, SHGs shall regain their position as "Dhaanya Lakshmi".
23 (7).To build a seamless national cold supply chain for perishables, inclusive of milk, meat and fish, the Indian Railways will set up a "Kisan Rail" – through PPP arrangements. There shall be refrigerated coaches in Express and Freight trains as well.
23 (8).KrishiUdaan will be launched by the Ministry of Civil Aviation on international and national routes. This will immensely help improve value realisation especially in North-East and tribal districts.
23 (9). Horticulture sector with its current produce of 311million MT exceeds production of food grains. For better marketing and export, we propose supporting States which, adopting a cluster basis, will focus on "one product one district".
23 (10). Integrated farming systems in rainfed areas shall be expanded. Multi-tier cropping, bee-keeping, solar pumps, solar energy production in non-cropping season will be added. Zero-Budget Natural Farming (mentioned in July 2019 budget) shall also be included. The portal on "jaivikkheti" – online national organic products market will also be strengthened.
23 (11).Financing on Negotiable Warehousing Receipts (e-NWR) has crossed more than`6000crore. This will be integrated with e-NAM.
23 (12). Non-Banking Finance Companies (NBFCs)and cooperatives are active in the agriculture credit space. The NABARD re-finance scheme will be further expanded. Agriculture credit target for the year 2020-21 has been set at ` 15 lakh crore. All eligible beneficiaries of PM-KISAN will be covered under the KCC scheme.
23 (13). Our government intends to eliminate Foot and Mouth disease, brucellosis in cattle and also peste des petits ruminants(PPR) in sheep and goat by 2025. Coverage of artificial insemination shall be increased from the present 30% to 70%. MNREGS would be dovetailed to develop fodder farms. Further, we shall facilitate doubling of milk processing capacity from 53.5 million MT to 108 million MT by 2025.
23 (14). Blue Economy: Our government proposes to put in place a framework for development, management and conservation of marine fishery resources.
23 (15).Youth in coastal areas benefit through fish processing and marketing. By 2022-23, I propose raising fish production to 200 lakh tonnes. Growing of algae, sea-weed and cage Culture will also be promoted.
Our government will involve youth in fishery extension through 3477 SagarMitras and 500 Fish Farmer Producer Organisations. We hope to raise fishery exports to ` 1 lakh crore by 2024-25.
23 (16).Under DeenDayal Antyodaya Yojana for alleviation of poverty, 58 lakh SHGs have been mobilised. We shall further expand on SHGs.
24. Now, for the fund allocation for the 16 different steps mentioned above, they are being stated under two different categories:
For the sector comprising of Agriculture and allied activities, Irrigation and Rural Development an allocation of about `2.83 lakh crore has been made for the year 2020-21 . Its divided, inter-alia;
⦁ For Agriculture, Irrigation & allied activities – ` 1.60 lakh crore
⦁ For Rural development &Panchayati Raj – ` 1.23 lakh crore
Wellness, Water and Sanitation
Under Aspirational India, I shall now speak about Wellness, Water and Sanitation.
25. We have a holistic vision of healthcare that translates into wellness of the citizen. Mission Indradhanush has been expanded to cover 12 such diseases, including five new vaccines. FIT India movement is a vital part of fight against Non communicable diseases coming out of life style issues. A very focused safe water (Jal Jeevan Mission) and comprehensive sanitation program (Swachch Bharat Mission) have been launched to support the health vision. That would reduce the disease burden on the poor.
26. Presently, under PM Jan Arogya Yojana (PMJAY) ,there are more than 20,000 empanelled hospitals. We need more in Tier-2 and Tier-3 cities for poorer people under this scheme.
26 (1). It is proposed to set up Viability Gap funding window for setting up hospitals in the PPP mode. In the first phase, those Aspirational Districts will be covered, where presently there are no Ayushman empanelled hospitals. This would also provide large scale employment opportunities to youth. Proceeds from taxes on medical devices would be used to support this vital health infrastructure
26 (2). Using machine learning and AI, in the Ayushman Bharat scheme, health authorities and the medical fraternity can target disease with an appropriately designed Preventive regime.
27. "TB Harega Desh Jeetega" campaign has been launched. I propose to strengthen these efforts realise our commitment to end Tuberculosis by 2025.
28. I propose to expand Jan Aushadhi Kendra Scheme to all districts offering 2000 medicines and 300 surgicals by 2024.
I have provided for the health sector about `69,000 crores that is inclusive of ` 6400 crores for Prime Minister Jan Arogya Yojana (PMJAY)
29. Our government is committed to ODF Plus in order to sustain ODF behaviour and to ensure that no one is left behind. Now, more needs to be done towards liquid and grey water management. Focus would also be on Solid waste collection, source segregation and processing.
Total allocation for Swachh Bharat Mission is about `12,300 crore in 2020-21.
30. Aiming to provide piped water supply to all households, Prime Minister announced from the Red Fort the Jal Jeevan Mission. Our government has approved `3.60 lakh crore for this Mission. This scheme also places emphasis on augmenting local water sources, recharging existing sources and will promote water harvesting and de-salination. Cities with over a million population will be encouraged to meeting this objective during the current year itself.
During the year 2020-21the scheme would be provided budget of
`11,500crore.
Education and Skills
The third and the final item under Aspirational India is Education and Skills.