POWER
Discoms eye 280 spots in Delhi to power e-vehicles
In tune with the Delhi Electric Vehicle Policy 2019, the discoms in the capital are eyeing a network of more than 280 charging stations for e-vehicles (EVs) by the end of this year.
While Tata Power, which has 12 charging stations, is planning 50 new ones, the two BSES discoms are trying to add 179 to their existing infrastructure. BSES, which now has 45 stations, expects to get nine more by March 31, taking the count to 54.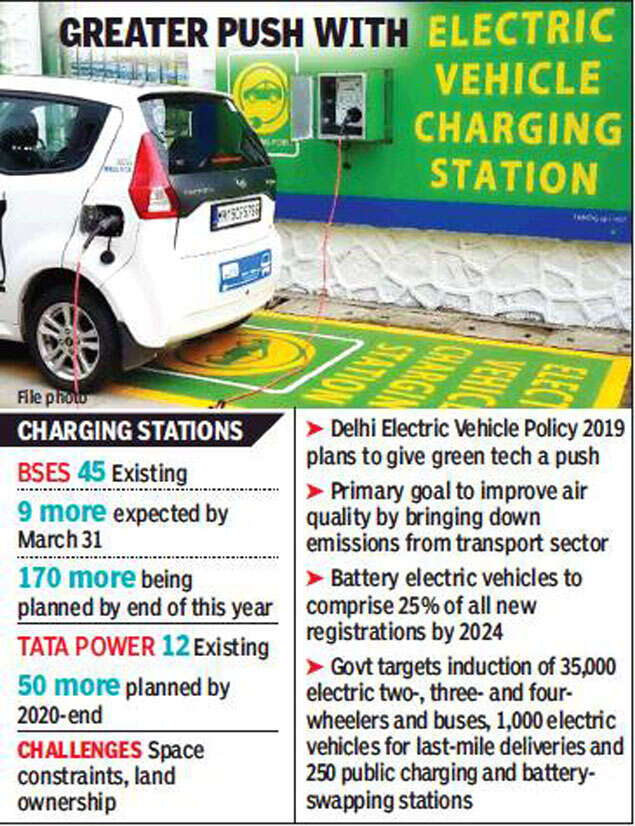 BSES has gone into partnerships with several organisations to set up smart EV charging stations across its licensed areas, said an official. A Tata Power official pointed out that as Delhi government had been focusing on scaling up the use of electric vehicles in the next five years, the vehicles running on clean fuel would need these additional charging stations for smooth operation.
The e-vehicle policy aims at curbing vehicular pollution by adding five lakh EVs in five years and focuses on its key contributors — two-wheelers, shared transport vehicles and goods carriers or freight vehicles. To improve Delhi's air quality by bringing down emissions from the transport sector, the policy wants to drive rapid adoption of battery electric vehicles in such a way that they constitute 25% of the new vehicle registrations by 2024.
Delhi government itself has been targeting induction of 35,000 electric two-, three- and four-wheelers, 1,000 electric vehicles for last-mile connectivities and 250 public charging and battery-swapping stations.