RENEWABLE ENERGY
India achieves historic low solar tariff of Rs 2.36 per kWh for 2-GW ISTS tender
The Solar Energy Corporation of India (SECI) on Tuesday saw a historic low winning tariff of Rs 2.36 per kilowatt hour (kWh) from SolarPack, a Spanish developer, for its 2 gigawatt (GW) interstate transmission system (ISTS) solar PV project under tranche-IX, according to JMK Research.
The major reason behind such low tariffs was zero safeguard duty for developers, access to low-cost financing, and a pass-through from basic custom duty under 'change in law' provision in this specific period, which is likely to significantly reduce project costs, it added.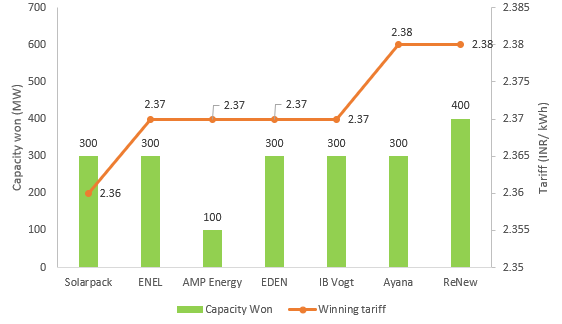 The winning developers — Solarpack, ENEL, and IB Vogt — have no pipeline of solar projects till now and might be aggressive to build their portfolio.
AMP Solar has a project pipeline of only 100 MW along with some other small projects under the open access corporate PPA route. EDEN, ReNew, and Ayana were the only ones with a significant solar project portfolio.