POWER
India, Brazil ink 15 pacts; sign Action Plan to deepen strategic partnership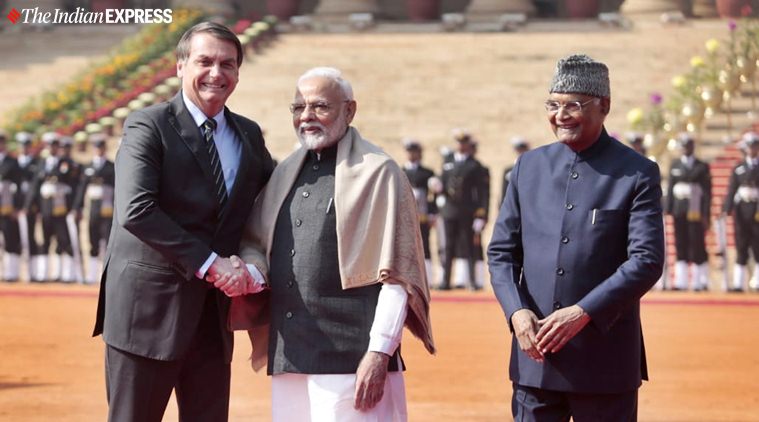 India and Brazil on Saturday concluded an Action Plan to deepen the strategic partnership as Prime Minister Narendra Modi and visiting Brazilian President Jair Messias Bolsonaro outlined efforts to further deepen ties between the two countries.
The two countries also concluded 15 agreements and a Memorandum of Understanding (MoU) including on investment cooperation and facilitation treaty, mutual legal assistance in criminal matters, bioenergy and cyber security.
"India and Brazil's strategic partnership is dependent on our similar mindset and values. In spite of the distance, we are together on several global forums. Today, we have agreed to take forward our partnership on several issues,"Mr. Modi said addressing a joint press conference.
Stating that the needed legal framework has been created to make investment better in both countries, he said India and Brazil, two big growing democracies, think similarly on several global issues. "From terrorism to the environment, India and Brazil have a similar view on all such issues," he said.
Bilateral relations were elevated to a Strategic Partnership in 2006 and 2023 will mark 75 years of the establishment of diplomatic relations. "We have just signed 15 agreements. We have indeed further consolidated our working bilateral relations," Mr. Bolsonaro said. He will be the Chief Guest at the Republic Day parade on Sunday.
Thanking Mr. Bolsonaro for accepting to be the Chief Guest, Mr. Modi said at the "Republic Day parade at Rajpath, you will witness the diversity of India. Brazil is also a country that celebrates many festivals with fervour."
Mr. Modi termed Brazil as a valuable partner in India's economic transformation and "for needs in the food and energy sector." Mr. Modi said they are adding new areas in bilateral cooperation.
He also said they are focusing on new ways to promote defence industrial co-operation and are looking for a broader partnership in security. In this regard he said Brazil will have a large delegation at the DefExpo in Lucknow next month.