Nuclear Energy
Nuclear power plant construction in Kovvada likely to be revived?
The controversial nuclear power plant in Kovvada of Srikakulam is likely to be revived as the issue came up for discussion between Prime Minister Narendra Modi and US President Donald Trump during the latter's just concluded trip to India.
The joint statement released by the White House said both Trump and Modi have decided to encourage the firms – Westinghouse and Nuclear Power Corporation of India Limited (NPCIL) – involved in the construction of the 7248 MW atomic energy plant to complete it early.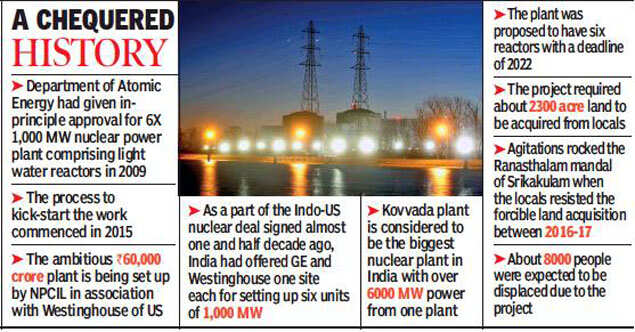 Although the statement did not mention Kovvada plant in Andhra Pradesh, its reference to the joint venture of Westinghouse and NPCIL clearly indicates the plans to revive the project in coastal AP as it is the only project taken up by Westinghouse in India.
The statement said: "President Trump and Prime Minister Modi welcomed growing links between the United States and India in trade and investment in hydrocarbons. Through their Strategic Energy Partnership, the United States and India are seeking to enhance energy security, expand energy and innovation linkages across respective energy sectors, bolster strategic alignment, and facilitate increased engagement between industry and other stakeholders.
President Trump and Prime Minister Modi noted the potential for the United States to meet India's goal to diversify its import base for coking/metallurgical coal and natural gas, welcoming recent commercial arrangements intended to accelerate access to LNG in the Indian market.