LATEST NEWS
Punjab govt owes over Rs 25 crore to pumps, drivers pay for government cars' fuel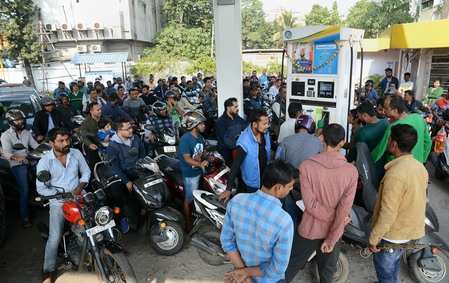 Cash-strapped Punjab government has failed to clear fuel bills amounting to over Rs 25 crore to private petrol pumps across the state for the last five months.
As Chandigarh Industrial and Tourism Development Corporation (CITCO) petrol pumps have refused to provide fuel to Punjab government vehicles on credit, drivers and officers of the state's various departments in Chandigarh have been forced to pay for fuel from their own pockets. The situation has deteriorated to such an extent that driver of transport minister Razia Sultana was pulled up after he reached the minister's residence earlier this month for just buying fuel for Rs 500 from his own pocket.
Commenting on the problem, Punjab Petrol Pump Dealers' Association president Paramjit Singh Doaba said, "Various Punjab government departments owe over Rs 25 crore to private petrol pumps across the state. The petrol pump owners have not been given payments for the last at least four months." There are around 3,500 petrol pumps across Punjab.
In one such case, M/s Chandigarh Petroways petrol pump at Sector 52-B refused to supply fuel to official vehicles of the Punjab government's prosecution department after August 31 last year for non-clearance of outstanding payments by the Punjab government treasury. For the past five months, drivers and officers of the prosecution department have been forced to buy fuel for official vehicles from their own pockets and are awaiting clearance of their bills by the finance department.
The prosecution department took up the issue with the home department to urge the finance department to release Rs 35,000 payment at the earliest to the CITCO petrol pump at Sector 17 so that it would start providing fuel to two vehicles of the department. It also made a request for deposit of payment for the pending fuel bills into the bank accounts of its officers and drivers.
The Punjab government departments submit their bills for petrol, oil and lubricants, besides maintenance bills, through vehicle management system (VMS).