INFRASTRUCTURE
Registration can't paper over cracks, road to assembly may pass via infra
Lofty promises no longer stir up emotions in most residents of unauthorized colonies in the city, cannon fodder as they have been for different political parties for decades. Unsurprisingly, in the run-up to the latest assembly, too, the netas are in a mad scramble to take credit for giving that final push for a legal stamp to these areas.
And while the grant of conveyance deeds of houses to a handful of residents by the Centre has triggered a war of words between AAP, BJP, and Congress, the residents themselves are wary of celebrating early, as TOI found on visiting some of these colonies in south, east and north Delhi.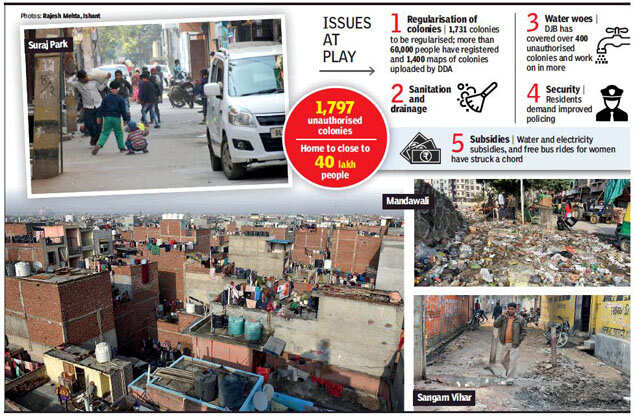 In east Delhi's Kondli, congested lanes, broken roads, and overflowing drains serve a reminder, if ever one was needed, that large swathes of Delhi are yet to be put on the development map. For some residents, a renewed hope to finally be able to call the homes they have been living in as rightfully their own is enticing, but the overwhelming sentiment is in favor of getting at least the basic infrastructure.
RD Sharma, a resident, can't hide his disappointment as he recalls a visit to a helpdesk set up by DDA to facilitate the conferment of ownership rights. "They are just sharing information about the documents required for getting the conveyance deed. Also, ownership rights don't mean that the area has been regularised. Unless that is done, we can forget about any planned development," he says. While many residents are not clear about the process, others are not sure exactly how much ownership rights will benefit them.
Sharma's neighbour points to the badly damaged stretch to ask if they don't even deserve proper roads. Encroachments are rampant and, as Sharma says, the "illegal" tag associated with the area has kept any kind of planned activity at bay. However, he commends the work done by AAP government in the recent times. "Internal roads are better and even sewer lines have been laid," he says.
In nearby Gharoli Dairy Farm, poor sanitation raises a stink. Shashi Kala, a longtime resident, says even a hint of rain causes drains to overflow. "It's difficult to believe that we live in the national capital," Kala asserts. Go a little further, however, and residents of Gharoli in Mandawali Fazalpur appear satisfied with the efforts put in by AAP government. Hazi Irshad, for one, says he is least bothered about the ownership rights. "Regularisation has nothing to do with the pace of development. Our roads are in a better shape and water and power supply is regular now," he says.
Anand Sharma (name changed), a resident of Mayur Vihar Phase I, on the other hand, argues that allowing illegal construction and, then, demanding their regularisation for vote politics is turning city into urban sprawl. "I welcome DDA's move to set a cutoff date for approving documents for ownership rights."